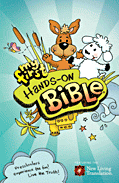 Author: Collaborative Editors
ISBN:

978-1-4143-4830-8
Publisher: Tyndale House
Source: Tyndale House Blog Network
Rating: Must Read
Pin It
About the Book:
My First Hands-On Bible
is the preschooler version of the popular
Hands-On Bible
, which has sold over a half million copies. Jesus taught with hands-on lessons and illustrations;
My First Hands-On Bible
uses the same experience-based learning to communicate God's Word in an active, understandable way.
My First Hands-On Bible
is a fun and simple yet meaningful way to engage preschool, pre-K, and K children (ages 3-6) with the Bible while helping them build a solid faith foundation. Each lesson focuses on a specific Bible point through a variety of activities in order to reinforce and help young children remember the stories and lessons. Using common household items, you can help your children have a "hands-on" learning experience while engaging them in 85 key stories from the Bible.
My First Hands-On Bible
doesn't just retell the Bible stories; it also includes actual Scripture from the easy-to-understand and easy-to-read
Holy Bible
, New Living Translation. In addition to the stories and activities, there are fun illustrations, prayers, and a special Jesus Connection feature.
I have had My First Hands-On Bible for a while now. I waited a long time before posting my review because I wanted to gauge my young daughters repeat interest in this new book. They LOVED it! We really couldn't get enough of the bible stories and the practical applications. As a mother, I look for help regarding my daughters learning since I have a hard time explaining concepts on a level they can understand. This hands on bible was perfect for me. It is the most unique Bible I've seen to date, and is now my favorite children's bible. Kids learn the best when they can observe the world around them and use it in their education. This is exactly what the Hands-On Bible strives to accomplish. I whole heartily recommend it to those interested!
Each story (39 old testament and 46 new testament) uses real Bible text taken from the New Living Translation. Each story holds "Hands On" activities throughout the story so that your toddler or preschooler is actively learning while reading the story. Hand print actions (pictured below) can be done during the story or after.
Each story has a "time to pray" and "let's talk" section that discusses the lesson learned in each biblical story. It also makes connections to our lives today. Pocket and Cuddles-two adorable animals- that give activities for parents and children to do together help practice or understand the story. Each story has two activites. Most fit within a normal daily routine to make the scripture easy to incorporate in daily life. The "Jesus Connection" connects every passage to Jesus, even if he's not mentioned in the story.
Have children

Teach children

Have grandchildren

Have faith

Go to church

Want something different and wholesome while being interactive

Are open minded

Have nieces, nephews or any other children in their lives