Pin It
Author: Kristina Riggle
ISBN: 978-0062003072
Publisher: William Morrow
Source: TLC Book Tour
Rating: Highly Recommended
About the Book:
What happens when the things we own become more important than the people we love?
Trish isn't perfect. She's divorced and raising two kids—so of course her house isn't pristine. But she's got all the important things right and she's convinced herself that she has it all under control. That is, until the day her youngest son gets hurt and Child Protective Services comes calling. It's at that moment when Trish is forced to consider the one thing she's always hoped wasn't true: that she's living out her mother's life as a compulsive hoarder.
The last person Trish ever wanted to turn to for help is her sister, Mary—meticulous, perfect Mary, whose house is always spotless . . . and who moved away from their mother to live somewhere else, just like Trish's oldest child has. But now, working together to get Trish's disaster of a home into livable shape, two very different sisters are about to uncover more than just piles of junk, as years of secrets, resentments, obsessions, and pain are finally brought into the light.
Thoughts:
I loved this book! It was like discovering a diary and finding treasure in the attic all at the same time. Like most siblings, Trish and her sister, Mary, are very different yet very alike. When Trish needs her sister the most, she is there to help sort through the mess of life, both figuratively and emotionally. The ordeal ends up being a life changing, emotional and bonding experience for the sisters as they navigate through the clutter and uncover the things they've needed to be whole again. For anyone who, has a sibling, collects and, yes, may horde items, loves uncovering family secrets or simply likes to read interesting, layered and dynamic stories, this is for you. You may not always like the characters, you may connect with one over the other, but it's very likely you'll bond with them as they bond and be enlightened into the loving dynamic of family in the midst of good and bad times.
About the Author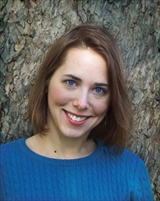 Kristina Riggle lives and writes in West Michigan. Her debut novel,
Real Life & Liars
, was a Target "Breakout" pick and a "Great Lakes, Great Reads" selection by the Great Lakes Independent Booksellers Association.
The Life You've Imagined
was honored by independent booksellers as an IndieNext "Notable" book.
Things We Didn't Say
was named a Midwest Connections pick of the Midwest Booksellers Association.
Kristina has published short stories in the
Cimarron Review, Literary Mama, Espresso Fiction,
and elsewhere, and she works as co-editor for fiction at
Literary Mama
. Kristina was a full-time newspaper reporter before turning her attention to creative writing. As well as writing, she enjoys reading, yoga, dabbling in (very) amateur musical theatre, and spending lots of time with her husband, two kids and dog.
Her latest novel,
Keepsake
, is about a compulsive hoarder and her estranged sister reluctantly joining forces to clean out the hoarded home when Child Protective Services comes calling, and much more than junk is uncovered.
Kristina will discuss Keepsake on Book Club Girl on Air on Wednesday, July 25th at 7 pm ET.