Author: Darien Gee
ISBN: 978-0-345-52534-5
Publisher: Ballantine Books
Source: Pump Up Your Book Promotions
Amazon Link:
Friendship Bread: A Novel
Website:
http://www.friendshipbreadkitchen.com/
Synopsis:
In Avalon, Illinois, a woman and her young daughter return home to find a plate of Amish Friendship Bread along with a bag of starter on their doorstep. There's no note, just a yellow sticky with the words, "I hope you enjoy it." The instructions tell them to feed the starter over a ten-day period, then bake two loaves and share the remaining starter with three other people.
At the insistence of her five-year old daughter, Julia Evarts reluctantly follows the instructions. Soon, the bread and its starter are making their way through the town of Avalon, touching the lives of its residents in ways both comical and unexpected. Julia befriends Madeline Davis, 74, owner and proprietor of Madeline's Tea Salon and Antiques who harbors a secret of her own, and Hannah de Brisay, 28, a concert cellist who relocates to Avalon after the premature end of her career and marriage.
Julia's sister, Livvy, is struggling with her own loneliness as she and her husband, Tom, try for a child of their own. Julia's husband, Mark, is tired of the sadness that seems to have taken over their lives for the past five years. As the town of Avalon becomes overrun with the Amish Friendship Bread starter, a kernel of a story presents itself and activist and reporter Edie is quick to jump on it, even if it means pointing a finger at Julia as the instigator and dividing the small community that they live in.
When a neighboring town is devastated by high floods, Julia and her friends supply loaves of the bread to the residents and volunteers. As word spreads, so does help. Soon the entire town of Avalon is doing their part to aid their neighbors in need as they put their differences aside. Friendship Bread is a captivating, engaging novel about life and loss, friendship and community, and what endures even when the unthinkable happens.
Review
Friendship Bread is a heartfelt, poignant novel with treasured moment hidden within its pages. The story is full of emotion and secrets that held me captive. I felt as if I was a welcome spectator to the lives of the residence of Avalon through the good and bad times. I thoroughly enjoyed getting to know the characters of this novel. The author does a beautiful job of telling their stories through her writing, each story told in their own point of view. There are a wonderful assortment of colorful and satisfying characters in this story as the reader is introduced to most of the town. They are the kind of characters you can imagine being friends with or spending time with.
I enjoyed the reality of this story. It shares the intimate details of day to day life as it happens in its rawest form. I was compelled to keep reading because I wanted to know more about the town and its residents. This book was extremely easy to read and flowed beautifully. It is the type of book that I prefer to know nothing about before reading it. Knowing to much would have ruined the story for me.
In the spirit of the Amish Friendship Bread, I recommend this novel. It is a novel of hope, comfort and endearment to its reader. I highly suggest it for book clubs. There is so much content that would be wonderful for a book club to discuss. If you have a friend or a sister who enjoys reading grab them and read it together. It's the spirit of the book! The story is one that will remain with you as it refuses to be forgotten.
About the Author:
Darien Gee lives with her husband and three children in Hawaii. She is the bestselling author of three previous novels (
Good Things, Sweet Life
and
Table Manners
) written under the name Mia King. You can visit Darien Gee's website at
www.friendshipbreadkitchen.com
. And check out the Friendship Bread Kitchen Facebook fan page.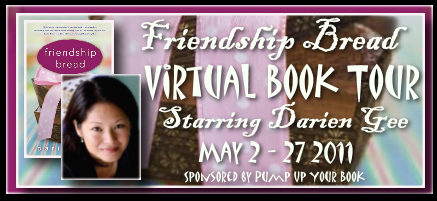 Want to win a copy? One copy is available to followers or subscribers of this blog with a US or Canada address who comment on this post telling me something you love or admire about a friend. MAKE SURE YOU FILL OUT THE FORM AS WELL!! Share the giveaway via Twitter or Facebook for an extra entry! My twitter handle @cozyreadersnook